Friends, it's time to open up the mailbag and answer your questions about vintage Christmas ornaments. And if you're wondering about this photo, it's a collection of plastic dime-store ornaments that I love, love, love. I put them on Etsy but it won't break my heart if they don't sell. I want a whole tree with nothing but dime-store plastic ornaments. I'm trying not to think about it. I'm trying not to think about it so hard that I'm not thinking about the place I just thought of where another Christmas tree could go.

Laura, via Etsy, asked about some of the vintage ornaments she's acquired. "A lot of them are missing some paint, or the silver inside is tarnished, and whatnot. Are they still desirable in that condition?"
I hate when people answer "it depends," but I think that's the only way to answer the question. If an ornament is missing so much paint or so tarnished that the wear is distracting, it's probably a problem. If it's still pretty, it's probably fine. Bubbling and flaking paint (usually from moisture), broken indents and chipped pikes (necks) are problems, though.

Kathy said she wasn't going to ask me anything but she forgot she asked me a long time ago how to identify ornaments from Poland. You know why I love this question? One, because once you know what an ornament from Poland looks like, you can identify it from across a room, and second BECAUSE SOMEONE ACTUALLY CARES ABOUT PROPERLY IDENTIFYING ORNAMENTS.
(Perhaps I'll write about properly identifying ornaments at a different time. I'm feeling the need TO WRITE IN ALL CAPITAL LETTERS AND THAT'S NEVER A GOOD SIGN.)
So, first off, look at the metal cap, because nine times out of ten, it will say Poland. Yay! I love easy identification. Ornaments from Poland also have distinctive patterns, like vertical stripes and glitter that's arranged like fish scales and handpainted flowers. Even the indents (like the ones above) have those designs on the back.

These are from Poland, too - there are Santas and skiers and women gathering pine, painted with just a few brushstrokes. There's a soft shimmer and glow to ornaments from Poland.
There are lots more photos of ornaments from Poland in this post.
 


From Ruthann (no blog): "My question is, how many different Shiny Brites have you come across? I wonder how many different ones were made; not just colors but designs too."
Oh, I love this question because it feels like a project! I have no idea! There were balls, and balls with indents, and balls with stripes, and balls with stencils, and odd shapes like lanterns and UFOs and tornados, and bells, and different sizes of bells, not to mention all the different colors, and the latter-day Shiny Brites with glitter designs, and now I really want to try to document this.

Since I don't have a very good answer to this question, I'm tossing it to Melissa, who describes herself as a certified ornament hoarder and volunteered to take any questions I couldn't answer. Thanks, Melissa!

From Susan: "My question is, when will you be putting up the tree?"
Answer: The day after Thanksgiving. I would rather wait a week or so. But my son insists on the day after Thanksgiving, and we all know that Christmas is for children. Even when the children are 20 years old.

There were several questions about cleaning ornaments. One word: Gently. At most, I use a soft, dry cloth. Water is the worst thing in the world for glass ornaments. Storing them with hangers attached is a bad idea, by the way, because the hangers can scratch them.

Lucky Kim bought a bag of ornaments at her thrift store. "In there were several of the little ornaments that have pinecone bodies and cute little heads (gnomes?). They have skis on and ski poles in their hands. ... Can you provide a little history on them?"
My go-to Christmas reference book, "Christmas, 1940 - 1959," by Robert Brenner, has a photo of these on the cover. Pinecone people, the book says, were very popular in the 1950s and were made in Germany and Italy. Most of the ones that I own were made in Japan. I've seen them on skis, with musical instruments, with books, with little lanterns - there seems to be no end to the variations. Last December's Martha Stewart magazine had quite a good article on pinecone elves.
Kim also asked about flocked plastic figures - "a bit tacky, but also a bit cute." I turned to my other go-to Christmas reference book, "Christmas, 1960 - present," also  by Robert Brenner, and found a reference to them. They're felt-covered plastic ornaments from Japan, and they were popular in the 1970s.
Here's my question for all of you: Do you think they'll be valuable some day? I hope not, because I give 'em back to the thrift store almost as soon as I get them.
And finally ...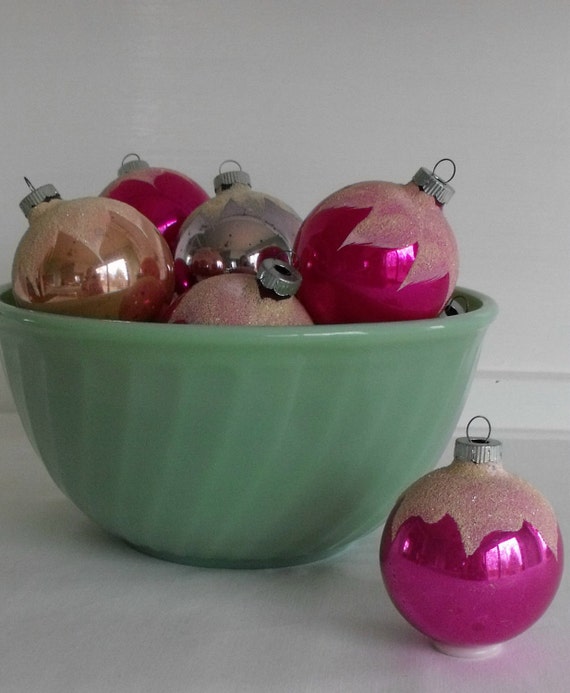 Amy asks: "Will there be a 2011 Academy of Vintage Christmas Ornament Arts and Sciences Awards?"
Yes, indeed! As is our custom, it will be the Monday before Christmas, or thereabouts. But I'll make sure you all get invited. I've got connections with the Academy.